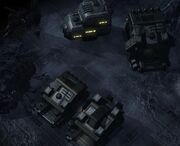 Nagakawa Bay is a small village northeast of Apollo. Ramirez can be found at Nagakawa Bay in all three Campaigns and Survival. In the Alpha Company Campaign, players may choose to do the Nagakawa Bay Civilian Rescue mission. If players choose to attempt the mission, there are four points in the village that civilians can be rescued. Alternatively, if players decide it is too risky, they may simply prepare and wait until Ivax spawns.
Ad blocker interference detected!
Wikia is a free-to-use site that makes money from advertising. We have a modified experience for viewers using ad blockers

Wikia is not accessible if you've made further modifications. Remove the custom ad blocker rule(s) and the page will load as expected.